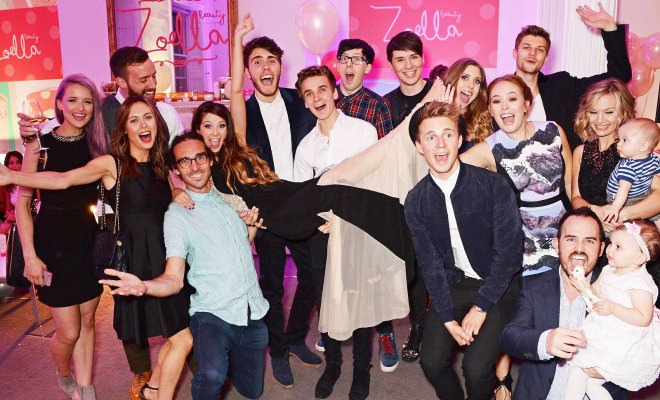 Photography: www.zoella.co.uk
Technology
The Rise of the YouTube 'eCelebrity'
By
|
Since its launch in 2005, online video sharing platform YouTube has steadily formed a new type of celebrity: the YouTube 'eCelebrity' or 'iCon'. Ordinary YouTube users have been propelled into mainstream celebrity culture on the basis of their online content. But, why?
When at my friend's house, I stumbled past his 14 year old sisters room to see it decorated with all things YouTube; affectionate scrawlings of the name 'Zoella' (Beauty guru Zoe 'Zoella' Sugg) were plastered on a whiteboard. It seems young girls are no longer fawning over the latest boy band, they're obsessing over YouTube vloggers (video bloggers), who upload videos of their everyday lives.
This is an unfamiliar concept to me; how can one earn a modest and secure salary from uploading videos to the internet? Zoella was awarded both the Nickelodeon Kid's Choice Award for 'The UK's Favourite Vlogger' and Teen Choice Award for 'Choice: Web Star: Fashion & Beauty' in 2014; she further celebrated receiving 6 million subscribers as of late, with that figure increasing every day. According to SocialBlade.com, it estimates that Zoella's channel earnings are between £6,500 – £52,300 a month, and earlier this week, Zoella launched her own range of beauty and pamper products, aptly named 'Zoella Beauty' at an extravagant launch party in Central London. Zoella also has a novel coming out in November. Not bad for the then 17 year old girl who started her YouTube channel in her bedroom in 2007.
Zoe 'Zoella' Sugg at her Beauty Launch this week
Zoella is managed by talent and management agency, Gleam. Gleam is most certainly a YouTube family affair, as not only do they represent Zoella's YouTuber brother, Joe "ThatcherJoe" Sugg, but they represent her boyfriend Alfie "PointlessBlog" Deyes (who has recently published a best-selling book); her best friends Louise "SprinkleofGlitter", and Tanya "Pixi2woo" Burr (who recently launched a successful make-up collection); as well as Tanya's fiancé Jim Chapman, and Jim's make-up guru sisters Samantha Chapman and Nicola Haste from "Pixiwoo" (who also own the popular Real Techniques make-up brushes). The Gleam Team are most certainly a force to be reckoned with.
The rise of such an unconventional celebrity is attributed to the YouTubers' "humble" beginnings: they began their channels as "ordinary people"; thus, they are easily identifiable, and their lives are so akin to that of their influential young viewers, that they are the most relatable breed of celebrity of them all. Yet, with many of the Gleam Team's YouTube sensations attributing this relatable trait to their success, they are increasingly drifting away from their "humble" origins as they integrate into mainstream celebrity culture. Tanya "Pixi2Woo" Burr is often at high-profile red carpet events and parties, and is regularly photographed by the paparazzi— it is important to note that these occurrences are not experienced by the average young girl, and this move into mainstream celebrity culture is starting to eradicate the unique selling point of the "eCelebrity", which is their "normality".
Tanya Burr at the ISSA S/S15 Show
The career status of the YouTuber is somewhat of a double-edged sword: one can view them as successful entrepreneurs, using themselves as their brand and earning a comfortable salary from a non-traditional career medium; yet, on the other hand, one can view them as lazy, money-centric individuals who exploit influential young fans through sponsored videos and viral advertising (the upcoming YouTube tour, for instance, is selling VIP tickets for £75 so young fans can momentarily meet and greet their favourite YouTube stars).
Your status as a well-known YouTuber is not something to take forgranted: it has been alleged this week that ex- Big Brother housemate and YouTube prankster, Sam Pepper, used his status to sexually assault and rape his young female fans. Since the accusations have plagued many large global media outlets, every one of Pepper's social media sites have been deleted, on the exception of his YouTube channel. Pepper's career and reputation has now been destroyed.
So, whilst YouTube is profitable for the time being, what will the internet stars of today do when the walls of YouTube come crashing down?