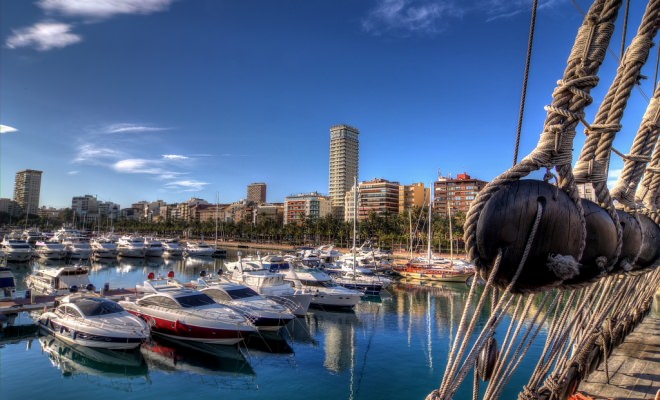 PhotoGRAPHY BY decar66
Travel
In pursuit of the black rice
By
|
I still remember the first time that I ate black rice. It was my first trip to Europe as a young adult and my sister took me to this little restaurant by the sea in Barcelona. I remember the feeling of excitement as we sat there with the cool sea breeze blowing through our hair and my sister promised that Barcelona was going to be a culinary adventure. This statement had so much truth to it. I loved Barcelona from the moment I stepped foot in this city. For lunch we were going to eat deep fried baby octopus and black rice. At that age, I had not yet developed my love of seafood and, the idea of eating whole baby octopus did not appeal to me. However when my sister explained that they were lightly dusted and deep fried, I gave her a satisfied smile. I loved all things deep fried and she only had to mention this to sway me. However convincing me to eat the black rice was a whole different story. What is black rice you must wonder. Black rice is the sister dish to paella and deserves as much rep if not more in my opinion. It is rice cooked in squid ink and it includes garlic and pieces of squid. It is traditionally served with a pot of home-made mayonnaise which was a completely new idea for me.
When the waitress placed the dish of paellera on the checked table cloth with a pot of mayonnaise, I frowned. How can one mix rice cooked with squid and mayonnaise? And this dish is completely and utterly black. Imagine rice covered in oil slick, that's a pretty accurate description of what awaits you if you order it. Even the pieces of squid in the dish were black. "Open your mind to this. You loved the starter and this is really going to be a treat, " said my sister. I piled a small amount of black rice on my plate, mixed in some mayonnaise and the rice turned a shiny, unctuous black. I still remember the gentle sound of the waves inviting me, daring me to try this dish and not like it. My sister watched me intently as I took my first bite and smiled as she saw  the expression on my face change from nervousness to surprise and delight. With this first mouthful, all my senses came to life. The fresh and salty smell of the sea, the hypnotic sound of the waves, the beauty and lightness of the surroundings all melted together and became forever tied with this unique taste. I remember hearing a screaming seagull probably mocking me for doubting this dish. Needless to say that we finished this whole dish within minutes.
Ever since this sweet encounter, black rice found a place in my heart and I have not been able to dislodge it since. With every subsequent trip to Spanish cities, I have nagged my husband telling him that we had to find the black rice and try it. My stubbornness could not be budged despite knowing that some of these cities were known for their tapas and not the black rice. I tried relentlessly in Madrid, Mallorca, Seville and Granada. I mean some of these cities were by the sea, how could they not have this secret love of mine? None of these cities reunited me with my love. My heart sank a little every single time the black rice was served without the traditional pot of mayonnaise. I knew then that the black rice was not going to live up to my expectations. I mean how can you have bread without butter? Black rice should never be eaten without its soul mate.
My quest to eat black rice took me to sunny Valencia, the motherland of paella and black rice. Once we landed in Valencia, the first thing we did was book this little restaurant la Ruia in the city to eat the famous black rice. With anticipation, we walked to the restaurant whilst soaking in the sunshine which was a great respite from grey London. We arrived in this authentic restaurant and were seated by the window. Although none of the waiters spoke English, I easily ordered the black rice and some wine. As they say when there is a will, there is a way and my yearning to eat black rice could not be reckoned with. For those who have been to Valencia, you might know that in some areas of the old city you can smell the unpleasant drain smell. As we sat at our table, wafts of this smell found its way to our table like a pesky uninvited fly and I looked at my husband in desperation. Was this a sign? Would I not be able to indulge in the company of my beautiful old friend because of this? I sipped my glass of white wine and looked around at the tables of locals eating their food. No-one had ordered the black rice.
My heart leapt when the waitress placed the pot of mayonnaise on our table and immediately my eyes lit up. My husband and I shared this knowing look. This is it, this was finally happening. The paellera of black rice was placed on the table and we both looked at it in anticipation. My old friend had not gotten any prettier over the years but its mysterious blackness was drawing us.  I piled a mountain of rice on my plate and felt the tell tale sign of a well cooked black rice as I did so. The bottom of the rice was crusty against the pan as I scraped the rice into my plate. As if in a ritual, we mixed the mayonnaise to the rice and turned it into this glistening black mountain. In complete silence we took our first mouthful. Time froze and everything stood still as the oozing rice melted in my mouth. I closed my eyes and for a minute I was transported back on that beach in Barcelona, this special place where my bond with the black rice started and where a world of new food experiences opened to me and invited me in. I was instantly felt warmth in my belly, the kind of warmth brought about by homely food and I felt happy. The unpleasant smell was completely replaced by the smell of the sea. The little fat kid in me was jumping up and down with joy.  With each mouthful, my taste buds revelled in pleasure and every now and then I could not help but let a little moan of pleasure escape my lips. My thirst for this delicious dish has finally been satisfied for now.