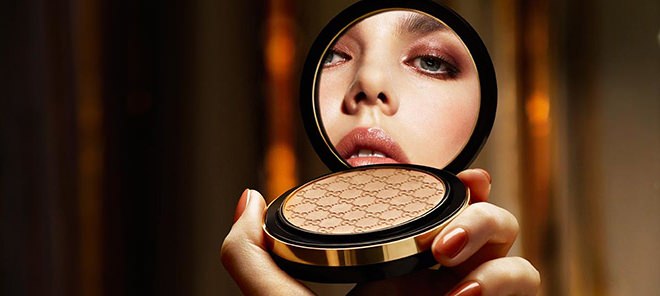 Photography by GUCCI
Beauty
Gucci Enters the Cosmetic Industry
By
|
Following in the footsteps of many other high-end fashion houses, Gucci have launched a brand new range of cosmetics that promise a high impact finishing look
After Chanel, Burberry and Dior all launched a line of luxury cosmetics to the mass-market it was only a matter of time before Gucci added a beauty line to their name. What I love about this new collection is not only the colour palette which ranges from sophisticated to daring but also the design of the products which look twice as exclusive in their sleek black and gold packaging marked with the signature interlocking G of the brand. Similarly to Chanel, Gucci's make-up range oozed that classic, vintage feel reinforced by the hundred years of stylish Gucci history.
This year has seen a resurgence in lipsticks and I found Gucci lipsticks to be elegant and refined with well-thought shades such as copper, peach, bronze and red included in the collection. The lipstick range is divided into colour-intense and moisture-rich, both of which have a sharp-edged shape to give a perfect look in a single swipe. The colour intense lipsticks contain an amalgamation of waxes and resin that deliver a weightless finish and a striking colour. The moisture rich lipsticks contain a mixture of oils, moisturise the lips and give the wearer a sumptuous finishing look.
And let's not forget one of the most communicative feature-the eyes- as they become the main part of focus next season, with glitter, vibrant eye shadow and coloured eyelashes all seen on the SS15 runways of the most prominent British fashion designers. Gucci have developed mono, duo and quad eye shadows all in contemporary and dazzling colours. All eye shadows are saturated with pigment while powder particles are pre-treated and primed for a luxurious application and high impact finish.
Gucci has managed to successfully find the perfect balance between modern, magnetic colours such as ottanio and natural warm nudes. Most of their make-up range can also be worn during the day which is perfect as a third of lip/eye make-up users prefer natural looking products. This year saw natural looking make-up trending with #NoMakeupSelfie nominations being used by millions of women to enhance natural beauty as well as raising awareness for important causes. Gucci offer luminous perfecting concealers, glow foundations for brighter and radiant looking skin, gold eye shadows and nude hues that can be worn to work and throughout the whole day.
This shows how fashion and beauty remain intrinsically linked, with looks filtering from runways to media, blogs and finally to consumers. Gucci's creative director Frida Giannini admitted, "For me, beauty and fashion are always connected. One doesn't exist without the other. Eyes, skin, lips—they're like accessories, all working together to create an unmistakable look." From this month onwards the entire make-up collection is available to purchase in selected stores and online at Gucci.com so don't hesitate to get your hands on some of these lustrous products and show off your winning look.