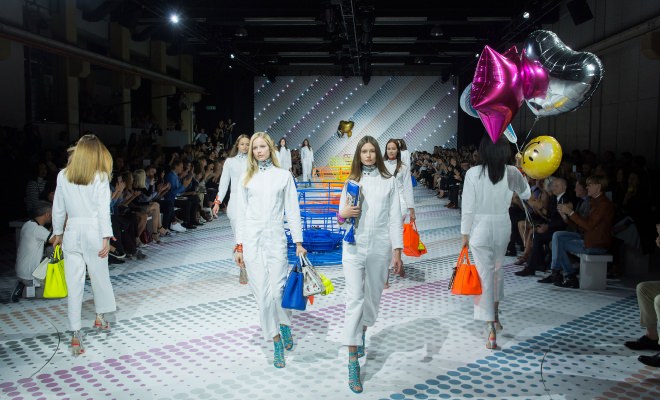 Fashion
Anya Hindmarch ready to wear SS15
By
|
Anya Hindmarch delivers a quirky show with revolving seats, moving sets and customised sticker bags
As London Fashion Week comes to an end, luxury handbags and accessories designer Anya Hindmarch decided to put a spin to her show-quite literally-and to bring a fun-fair experience to the catwalk. The British designer's show was different to anything we have seen so far at this season's London Fashion Week and definitely put the fun factor into the last day of this extremely important event. The catwalk was creatively planned and saw neon skeleton dancers, moving sets, fluorescent teacups and an amazing collection of eccentric handbags and accessories go up and down the moving runway.
Anya successfully brought back the colour popping trend and let colours play a key role in this collection, as blue, yellow and orange glow-in-the-dark totes strongly stood out against the plain white boiler suits worn by the models. The collection included snakeskin clutches printed with bold graphics, clutches with detachable cross-body straps, journals, and snakeskin printed pencil cases creatively shaped to resemble an actual pencil. Luxurious and quirky leather stickers also reigned the catwalk as almost every bag was embossed in colourful rainbows, hearts and mickey mouse's thumbs up stickers.
It was not just graphics that were embossed on each bag, but slogans such as 'bags have feelings too' and 'stop staring at my handbag' were also adhered to satchels and totes, proving that fashion can allow room for humour too. Anya, who collaborated with Charlotte Stockdale of Chaos Fashion launched 'The Sticker Shop' which is currently offering a selection of luxurious leather stickers to buy online on the designer's website for a limited time only. Anya Hindmarch's accessories for Spring Summer 2015 have certainly encouraged individuality and will no doubt be one of next year's most coveted collection.