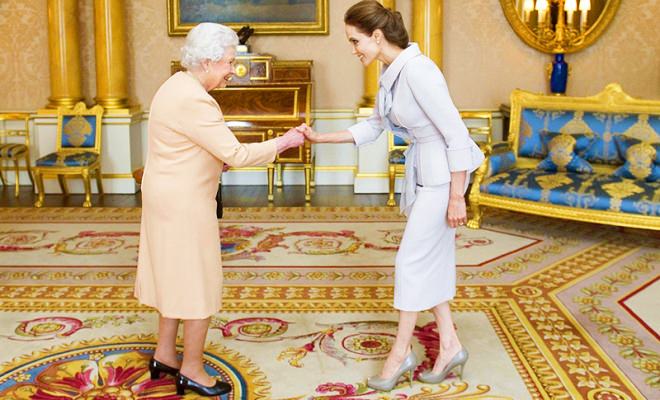 Photo: PA
Style
Angelina Jolie, an Honorary Dame: What She Wore
By
|
Feminine, yet powerful. Sexy, yet serious. Angeline Jolie is once again the vision of perfection. Angelina Jolie stunned as she was awarded an honorary Dame Hood for her part in campaigning against sexual violence in war. She shone at a humanitarian summit and her presence shone light on a less publicised issue.
Admittedly her attire is unimportant in her role and her significance at the event but as a public figure, dress does hold at least some importance; whether or not society is willing to admit it. In order to be taken seriously, Jolie's choice needed to be carefully considered.
Angelina Jolie's look on the red carpet is always glamorous and bold, yet seamless. In her visit to Buckingham palace, she wore a dove-grey skirt suit from Ralph and Russo S/S 2014. The look was originally red on the catwalk but she requested it be remade in a more palace-appropriate colour. As a whole, her look echoed that of Kate Middleton: though perhaps less motherly. She still retains her natural glamour for example in the height of her shoes. Furthermore, the pussy bow detailing on the jacket still gives a sense of the ability to be fashion forward and know how to use trends appropriately in different contexts. This is something that she always does so well on the red carpet. The structure of the jacket also reflects Michelle Obama's dress. The structured sleeves are reminiscent of the power-dressing that she wears so well.
Further details of the ensemble highlight again faultlessness. The bracelet sleeve displaying slender wrists portrays elegance and suggests an approachable demeanour which is as she appeared in the conference. The mid-calf length of the skirt meant she appeared respectful and serious in her visit to the palace and her position in the UK.
In terms of hair style, her hair was swept back from her face into an almost princess-like do. Her make up was kept fresh. Her flawless skin and a subtle rose-tinted lip appeared natural. Black eye make up finished the look and retained the Hollywood glamour that Jolie has brought to the UK.
Her jewellery was rightly kept very minimal as the suit portrays all that it needs to. Her swept back hair displayed pearl earrings which toned in with the rest of her attire.
In terms of the outfit and its take on trends, women's tailoring is becoming more prevalent and also more wearable. Tailoring for women definitely doesn't have to scream 80s and incorporate shoulder pads. The 'midi' length of the skirt has also been favoured for some time now, though not usually in the pencil skirt shape.
The new normal trend is also beginning to take stand in magazines and although this has usually been with more casual attire, Angelina Jolie still reflects this in what it has achieved as it is very wearable and doesn't wish to grab attention.
Ultimately Jolie has managed to represent herself as an established figure through her dress.